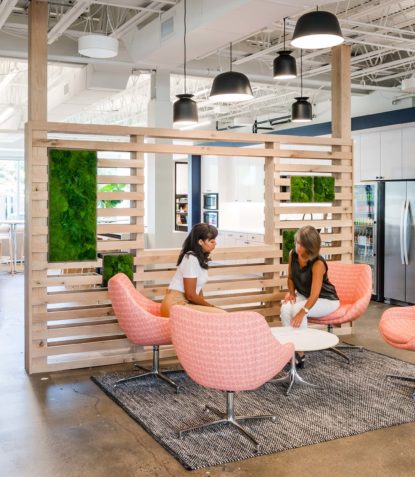 Dotted Line Collaborations & Spinnaker
Dotted Line Collaborations and Spinnaker are two different companies operated by an entrepreneurial husband and wife duo. Our team worked with both teams to create a shared space for their two companies. Spinnaker is a leading business consulting company, while Dotted Line Collaborations is a creative firm specializing in branding and graphics.
Special care was taken to merge their brands, using colors that overlapped between both a traditional business organization and a creative brand – in this case, navy, sky blue, and orange.
The design features custom millwork in both the founders' offices, classic midcentury furniture, and a custom wood feature with moss inserts and a swiveling TV mount. Additionally, off of the reception area, a former bank-vault was outfitted as a quiet library space with moody and subdued tones.