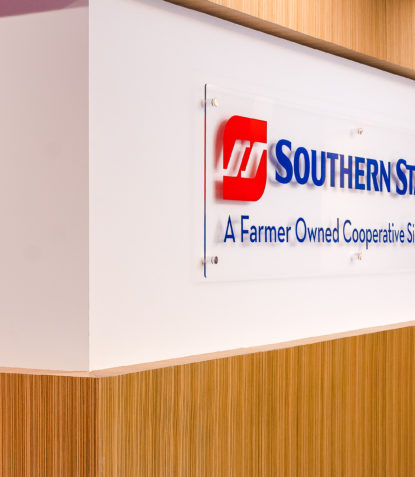 Southern States Cooperative
Southern States Cooperative, Inc is a farmer-owned supply chain located in the Richmond, Virginia area. Established originally in the early 1920s by a group of 150 farmers, the brand has grown exponentially into a well-known brand for farmers, hobbyists, and homeowners alike seeking everything from livestock supplies to gardening and lawn care materials.
Our team was brought on to take Southern States' dated headquarters space and bring it into the 21st century. Working closely with the Southern States team we decided an open concept design was the way to go. A must have for the new space was a communal area where employees, clients, and visitors alike could come and meet in order to work collaboratively. Our team was able to do this by opening the kitchen space up to the rest of the office; long bar height tables extend out from the kitchen and help to promote interaction for the staff and visitors to the office. A sectional couch was added to the space to allow for a more relaxed atmosphere for meetings.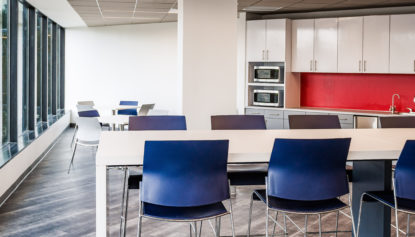 ENVisioning the Space
Color choice is what truly sets this space apart. By using the companies' red and blue color scheme our team was able to take this fun and inviting design and give it a unique pop of color.
Contrasting red, blue, and grey accents highlight the space both in the furniture and flooring choices. Overall the design provides a fresh new look for the Southern States team.