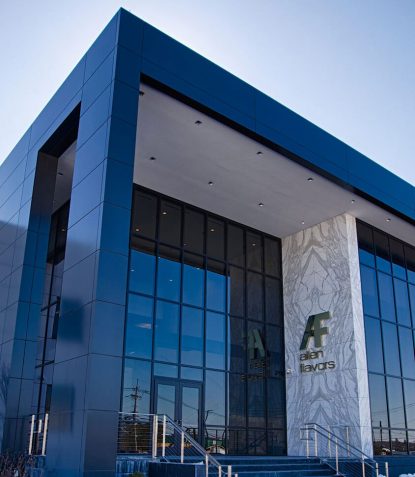 Allen Flavors
Allen Flavors, headquartered in South Plainfield, NJ, is a flavor company which focuses on providing high-quality flavors to food and beverage providers across the country. Their products can be found in well-known spirits, coffees & teas, as well as sports drinks.
Our team was brought in to provide architectural services and retrofit an existing warehouse building to house their new corporate headquarters. Additions to the space include state-of-the-art labs, offices, warehousing facilities, tasting rooms, conference rooms, and more.
The facility's overall design is not only functional, but also features unique aesthetics which emanate the products Allen Flavors creates. Some of their design features include a two-story glass entry vestibule, multifunctional conference and tasting rooms, and a custom glass mural faced samples room. ENV's interiors team worked closely with the owner to design an interior enviroment and pick interior finishes that reflect the spirit and personality of Allen Flavors.
Overall, the new facility breathes a breath of fresh air to the once empty industrial building.