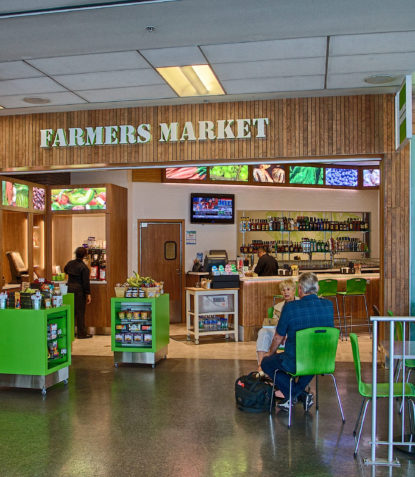 Farmers Market
The Farmers Market located in the Toronto International Airport is one of the 12 restaurants added to the Terminal, with the Farmers Market being one of HMS Host's own concepts. The market concept carries everything from gluten-free food options, to a fine array of cured meats, craft cocktails, and local beers, all centered around the use of locally sourced ingredients.
The design aesthetic aims to provide travelers with the experience of being at a real farmers market while they wait for their flight.  Warm wood tones and vibrant photos of fresh produce throughout emanate the fresh picked fruits and vegetables; the white subway tile and solid surfaces bring in the bright and airy sense of the outdoors, and the pop of green visually denotes the fresh food options that are available.
The Farmers Market provides a healthy alternative to travelers who are looking for a quick and healthy bit before their flight.