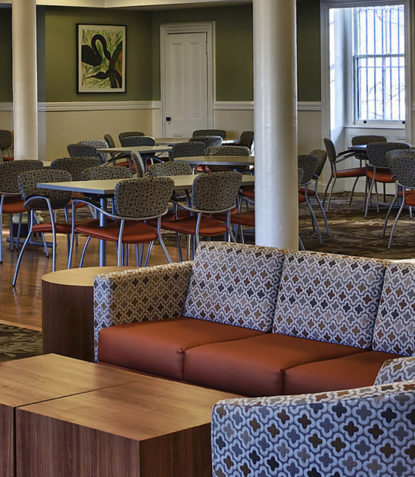 Founders Hall – College of Mount Saint Vincent
ENV worked with the College of Mount Saint Vincent to renovate the north and South wing of Founders Hall which is one of the main buildings on the campus. Overlooking the Hudson River, this historic building houses classrooms, cafes, and dining spaces, making it an integral part of campus life.
On the first floor, we curated a design to refresh and update this floor for the students. The renovations included conference rooms, cafes, and lounges throughout the floor. Use of dark greens and dark wood elements helped to tie into the already existing red and white tiled flooring, original to the building. On the north wing of the third, fourth, and fifth floors, our team renovated new offices for the administrative staff, conference rooms, and instructional spaces. Taking inspiration from the college's blue colors, our team also designed a call center within the building for student workers and staff.