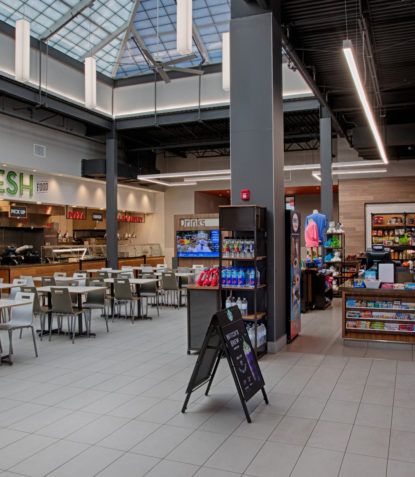 Delaware Water Gap Travel Plaza
Delaware Water Gap Travel Plaza located in Columbia, NJ was designed to cater to travelers making their way through the Delaware Water Gap. The exterior of the building was designed to reflect the vernacular of local architecture, while the interior space was designed to provide a loft-like environment full of natural light. The interior core element is a breathtaking skylight which outlines the central dining and seating area. This dining area is surrounded by multiple food and beverage providers that cater to all types of travelers.
The concept for the interior was to create a space that would reflect Delaware Water Gap's fall season experience. This was achieved by the use of earth tone colors with hints of brown and orange accents. A great emphasis has been given to energy efficiency, natural light, and easy circulation flow. The space has been designed to be as open as possible to allow large quantities of travelers to move freely without congestion. Our goal was to design a modern getaway that would help all travelers relax for a moment and enjoy their meal, while being reminded of the local surroundings.