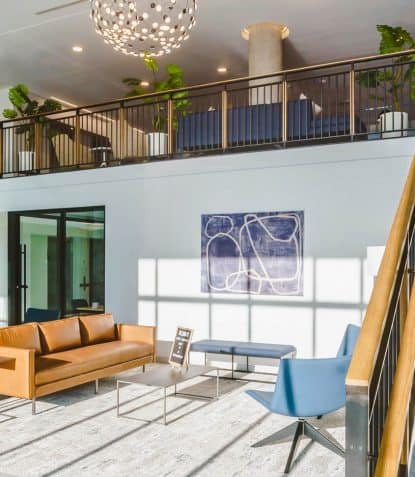 10th & Dairy
10th and Dairy is a multi-family project located in the heart of Charlottesville Virginia, developed on the historic Monticello Dairy site. It offers 180 apartment units and modern amenity spaces that include a fitness center, social clubrooms, co-working lounge, dedicated conference room, dog wash, pet spa, mail station, package room, and bike room. Outdoor living spaces include a saltwater pool, pool side loungers, seating nooks, giant chess board, fire pits, and grilling stations.
Our goal was to achieve a sophisticated living space by using natural finishes such as wood, stone, and greenery throughout the space. Jewel tones and brand colors are used throughout the furniture finishes, while the architectural finishes remain neutral. The brand is showcased in the double height lobby. The logo is displayed largely as you enter the space, as well as brand color seen throughout the furniture finishes.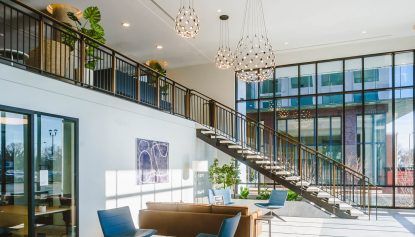 Amenity spaces were thoughtfully designed to be connected to one another, while having their own identity.
The use of angles can be seen on the glass film of the fitness center to enhance movement, also in the resident lounge wall covering. The logo wraps the wall at the entry lobby, while the same detail occurs in the co-working lounge at an art niche.